Molly's Pizza & CHicken (412) 341-3111
Delivery Dine-in Carry-out
With fresh, simple ingredients, we create crave-able appetizers, salads, pizzas, chicken, hoagies and desserts. Our dough is made daily, our sauces are homemade, and we always use fresh produce.
Taste the Molly's Pizza difference.
We're life-long PittsburgHers, and we love it here. Along with our three kids, we wanted to bring a fun and family-friendly restaurant to our town to share some of our one-of-a-kind food. Molly's Pizza was born over nine years ago.
Our recipes are guarded family secrets. The atmosphere is clean and casual, and our daughter, Molly, is the Molly behind (and in front of) our store. From our family to yours, we offer a place for you to enjoy your meal, enjoy time spent with your family, and most of all, enjoy yourself!
VIRTUAL GIFT CARDS AVAILABLE FOR PURCHASE. CLICK THE GREEN BOX BELOW.
Hours:
Mon-Sat: 11:00 am-10:00 pm
Sun: Noon- 10:00 PM
Sorry, we can only accept delivery orders until 30 minutes before the close of business. Call in orders will only be accepted until 15 minutes before the close of business. Walk in, however, will be accepted until close of business-so if it's late, come on over!
Closed Holidays: Easter Sunday, July 4th, Thanksgiving & Christmas Day!
Location
1525 Potomac Ave
Dormont, Pa
15216
MONDAY & TUESDAY PICK-UP SPECIAL
LARGE CHEESE PIZZA $6.99
LARGE 1-TOPPING PIZZA $7.99
(limit 2 per order)
Pizza of the Month: Land Lover
Red Sauce with our premium cheese blend topped with pepperoni, sausage, bacon & meatballs.
Regularly $20.99
Get it now for $13.99
Salads
Fresh and flavorful! All come with a Romaine and spring mix blend, tomatoes, onions, green peppers and a shredded Provolone blend.
Dressings: Italian, Ranch, French, Blue Cheese, Honey Mustard, Greek, Creamy Caesar, Oil and Vinegar, Balsamic Vinaigrette
Extra Dressing: $0.75 Add Chicken or Steak $2.00
Molly's Twists
You can't resist the Twist. Similar to calzone, but better. Ours is twisted for extra flavor, brushed with a garlic butter sauce and cut into 10 tempting bites. Choose from our best sellers or create your own with our pizza toppings.
Traditional Pizzas
Traditional Red Sauce or White (with or with out tomato)
Regular Toppings: Pepperoni, Hot Sausage,Bacon, Fresh or Canned Mushrooms, Onions, Hot Peppers, Green Peppers, Anchovies, Ham, Hard Salami, Capicola, Broccoli, Zucchini, Spinach, Black Olives, Pineapple, Jalapeno Peppers
Specialty Toppings: Steak, Meatballs, Artichoke, Chicken, Feta, Cheddar Cheese, Extra Cheese, Roasted Red Peppers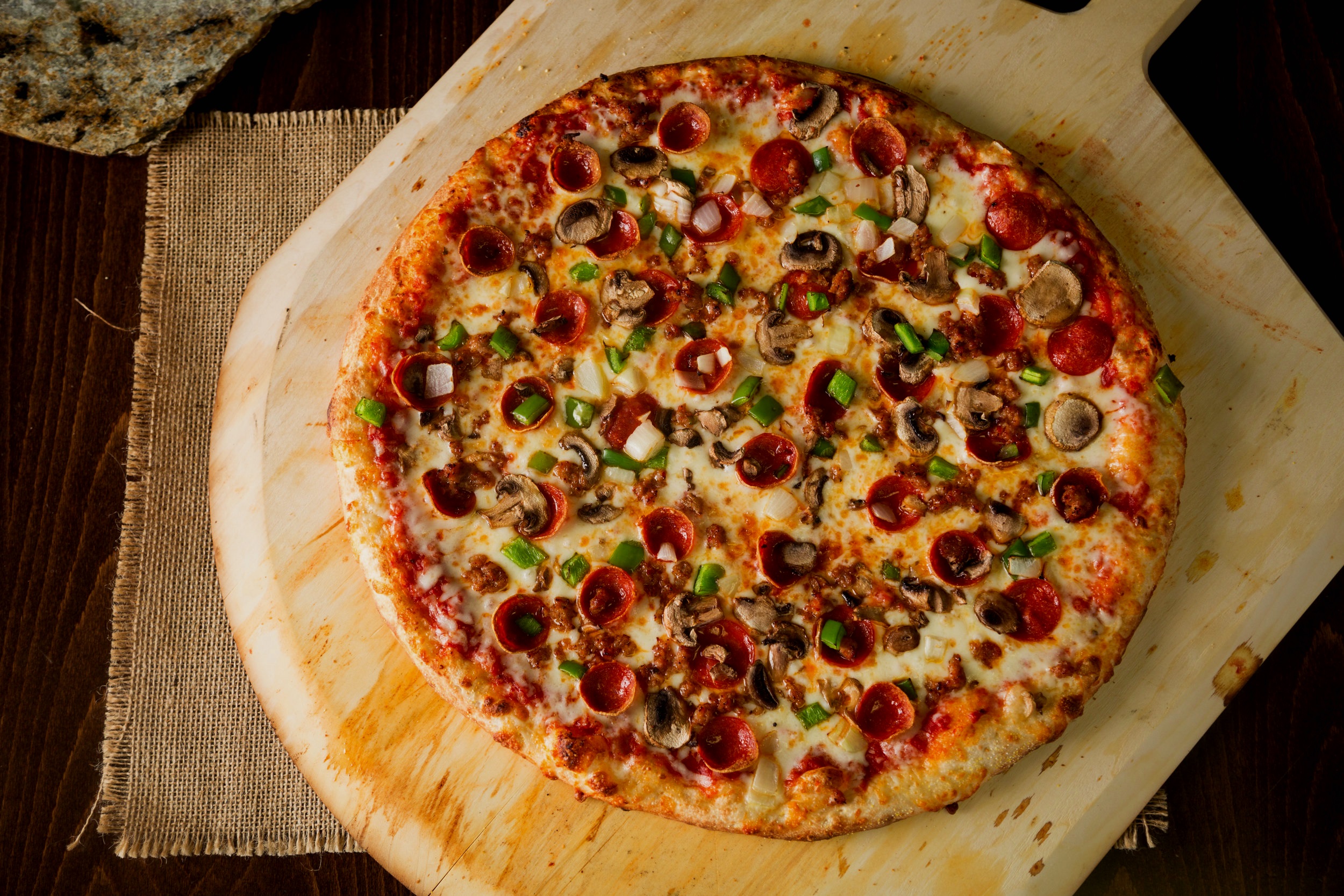 Specialty Pizzas
6-Cut Small 10" $11.99; 8-Cut Medium 12" $14.99; 10-Cut Large 16" $20.99; 12-Cut X-Large 18" $22.99
Broaster Chicken
Fresh, flavorful chicken with our own special marinade and coating that's pressure fried for irresistible crispiness outside and moist juiciness inside. Great tasting and great for you, with 40-70% less fat than deep fried and 0 trans fat. The Yukon Gold potato wedges are lightly battered. Lager quantities and catering options available. Call manager for details. And check our website for new items!
Wings
Sauces: Hot, Mild, BBQ, Cajun, Garlic Parmesan, Garlic, Buffalo Parmesan, Buffalo Garlic, Dry Cajun Rub, Sweet Chili, Hot Buffalo Ranch, Honey Jalapeno Gold
Ranch and Blue Cheese $0.75
HOAGIES
6 inch hoagies-$6.49 12 inch hoagies- $11.99
Breadworks Italian hoagie rolls, filled with the highest quality meats and produce.
OVEN-BAKED SPECIALTIES
Add in extra toppings:
Small- $1.50
Large- $2.00
Stromboli
Red sauce, ham, pepperoni, Mozzarella and Provolone wrapped in fresh hand-tossed dough and baked to perfection
Small- $9.49
Large- $12.99
Calzones
Our fresh hand-tossed dough stuffed with Mozzarella, Provolone and Ricotta, baked to a golden brown
Small- $9.49
Large- $12.99
Specialty Calzones
Small- $10.99 Large- $14.99
Italian Calzone
Our fresh hand-tossed dough stuffed with ham, Capicola, hard salami, Mozzarella, Provolone and Ricotta, baked to a golden brown
Meatball Calzone
Our fresh hand-tossed dough stuffed with meatballs, Mozzarella, Provolone and Ricotta, baked to a golden brown
Steak & Banana Pepper Calzone
Our fresh hand-tossed dough stuffed with steak and banana peppers, Mozzarella, Provolone and Ricotta, baked to a golden brown
BEVERAGES
Pepsi, Diet Pepsi, Brisk Tea, Sierra Mist, Mountain Dew, Orange Crush, Mug Root Beer, and Aquafina
20 ounce- $1.99 2 Liter- $2.99
Pure Leaf Tea: Lemon, Raspberry, Unsweetened and Sweetened
$2.15
Gatorade: Lemon-Lime and Glacier Freeze
$1.99
catering
We'll make your next event extra special, whether it's lunch for your coworkers in the break room or pulling out all the stops for an important business meeting. We offer a large assortment of appetizers, salads, hoagies, chicken, pizzas and specialty pizzas, pastas, and desserts, so there is something for everyone. Perfect for any get together of any size.
12 ounce cup of salad dressings or dipping sauces- $4.00